Amjad Yousef: US sanctions Syrian military officer for massacre that killed at least 41 unarmed civilians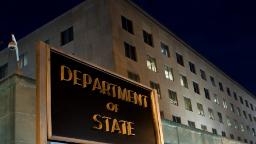 CNN
–

The US State Department on Monday imposed sanctions on a Syrian military officer it says killed at least 41 unarmed civilians in the Damascus region in April 2013.
Amjad Yousef, a military intelligence officer for Syrian leader Bashar al-Assad's regime, and his immediate family will be barred from entering the United States, Secretary of State Antony Blinken said in a statement.
Video evidence of the Tadamon murder, which Blinken described as "coldly and methodically carried out," became public in 2022 "after a long and extensive investigation by independent researchers."
"Today, we are taking action to promote accountability for this atrocity," said the top US diplomat.
The news of the visa restriction comes as a growing number of countries have renewed at least some level of contact with the Assad regime, particularly after last month's devastating earthquake in Turkey and Syria.
"The picture of this massacre, along with the ongoing killing and abuse of large numbers of Syrians, is a sobering reminder of why countries should not normalize relations with the Assad regime without continued progress towards a political solution," Blinken said.
"The United States calls on the Assad regime to end all human rights violations and abuses, including but not limited to extrajudicial killings, arbitrary detentions, disappearances forced existence and torture," he said.
Blinken noted that March "marks the twelfth year of conflict in Syria during which the Assad regime has committed numerous atrocities, some of which rise to the level of war crimes and crimes against humanity." "
In an April 2022 article published in "New Lines Magazine," the two researchers who helped uncover the murder said the videos, which were "already shocking for their horror, stand out in their brevity and callousness among the thousands of hours of footage. we have studied throughout our careers as researchers the mass violence and genocide in Syria and elsewhere."
"Particularly appalling about the Tadamon videos is the fact that the intelligence officers who carried out the assassination were on duty and in uniform; they report to President Bashar al-Assad himself, yet chose to show their faces in the criminal film. At several points throughout the video, they looked directly into the camera seemingly relaxed and smiling. In recording their own actions, they used HD video quality," wrote Annsar Shahhoud and Uğur Ümit Üngör.
Yousef, the official who was cleared by the State Department on Tuesday, is "focused, stoic and detailed, and works efficiently to complete the task within 25 minutes," the dispatcher wrote – research.
"After a few months, we confronted the murderer and told him we had seen the pictures," said the researchers.
"At first, he denied it was him in the video. Then, he said he was just arresting someone," they wrote. "Finally, he settled on the justification that it was his job and expressed his content: 'I'm proud from what I have done.'"