Boxing's best hits of 2023: Junto Nakatani delivers KO of the Year contender David Morrell with brutal victory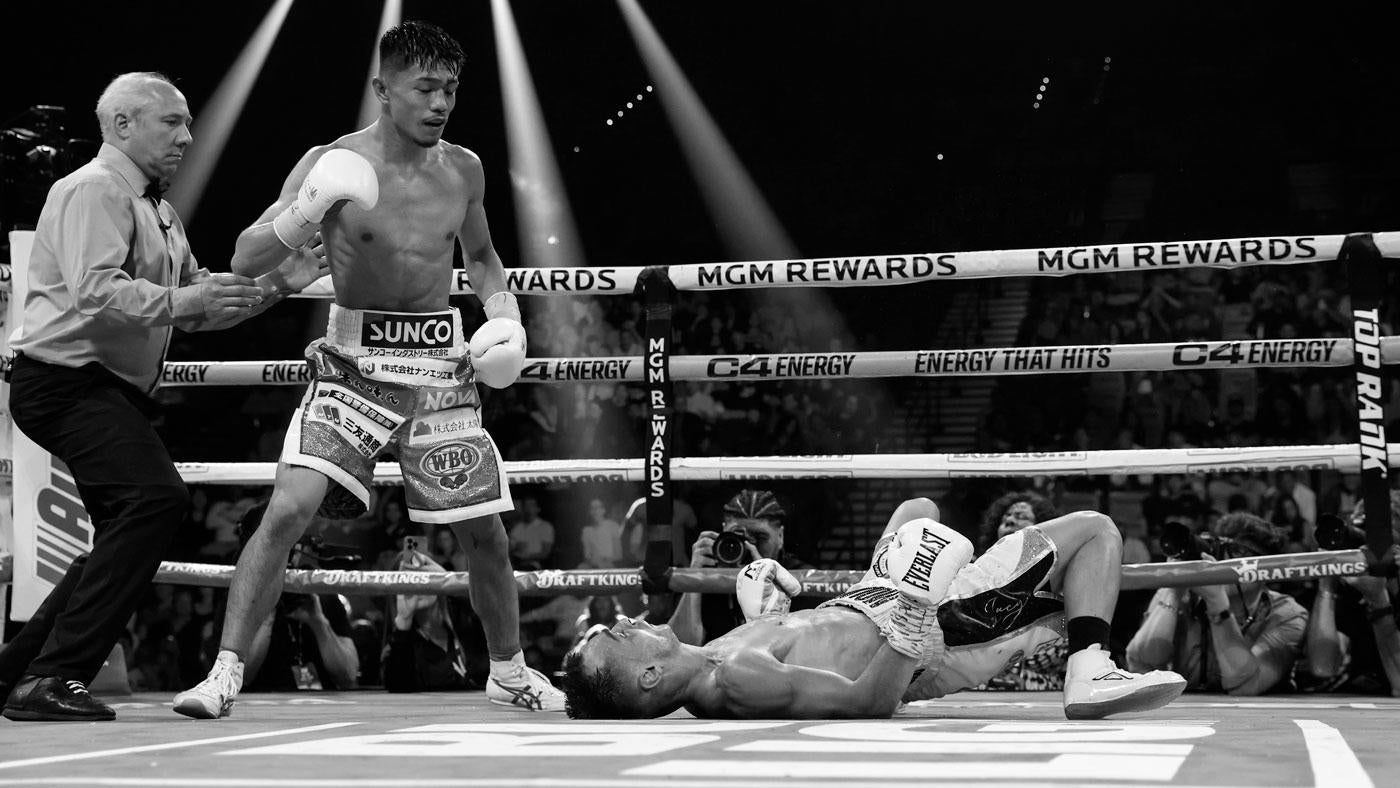 2023 has been an incredible year for boxing, with the Fight of the Year list growing seemingly every weekend. But along with the heaps of action battles, there have been some big hits.
From championship-winning punches to lesser-known fighters making a name for themselves with sheer one-shot power, there's been plenty of climbing to please even the most die-hard boxing fan, including the biggest fight of the year, when Gervonta Davis put down Ryan Garcia with a body shot on April 22.
Below is a running list of the best boxing hits of 2023. This page will be updated continuously throughout the year, so check back often to see new entries.
Liam Smith def. Chris Eubank Jr. (January 21)
Smith went into his fight with Eubank as a live underdog. Few, if any, believed that Smith's concern would come from stopping early. After a strong start by Eubank, Smith turned things around in Round 4, landing some hard flurries that sent Eubank to the canvas. While Eubank was able to beat the count, a continuous flow from Smith led to one of the most amazing moments in recent years. Eubank was also left with a grotesque swelling under his eye as a result of Smith's attack. Eubank's team were quick to say they would activate the rematch clause for the fight and the pair are expected to rematch later in 2023.
Alexis Rocha def. George Ashie (January 28)
Rocha was originally going to face Anthony Young but instead came across the ring from Ashie who was on short notice. Rocha soon realized that Ashie had no power to hurt him. After that performance, Rocha chose to charge first on Ashie's offense landing his own big shots before a right hand bomb knocked Ashie out and ended the fight . After the win, Rocha requested a fight with Terence "Bud" Crawford and a month later, the WBO ordered the matchup, putting Rocha in position for the biggest fight of his career.
Mauricio Lara def. Leigh Wood (February 18)

For almost all of the seven rounds, Wood looked overlooked by most coming into the fight. It only takes one shot from Lara to change a fight, however, and that shot came late in Round 7. Both men dropped and twisted their hips to fire a left hook, but it was Lara who landed in the first and hardest, cracking Wood on the chin and sending him flat on his back to the canvas. Wood beat the count but his corner called off the fight. Because Wood entered as WBA featherweight champion, a rematch clause was inserted into the contract and Wood said after the fight that he "absolutely" wanted a rematch.
Eduardo Nunez def. Jesus Martin Ceyca (March 4)

Nunez vs. Ceyca wasn't a fight on anyone's radar, but that didn't stop Nunez from using it to cement himself in the conversation for Knockout of the Year. In the second round, Nunez jumped forward and landed a right hand that immediately put Ceyca to sleep. The knockout was Nunez's 24th, maintaining his 100% career knockout rate while handing Ceyca the first loss of his professional career.
Diego Pacheco def. Jack Cullen (March 11)
Some hits come with one big shot, others with a bunch of punches. Pacheco de Cullen's ending falls firmly in the latter camp. First, a brutal left hand to the body sent Cullen to the canvas. Cullen managed to get to his feet, but instead of going back to the body, Pacheco threw a five-punch combo to the head that crouched Cullen and forced the referee to jump in and stop the bout. fourth round Pacheco remained undefeated with the win and took advantage of the main event opportunity when Callum Smith was injured and pulled out of his fight with Pawel Stepien.
Brian Mendoza def. Sebastian Fundora (April 8)
Fundora went into his fight with Mendoza as the favorite and was expected to travel and maintain his position as a mandatory challenger for the undisputed junior middleweight titles. Instead, Fundora's reckless style of ignoring his massive physical advantages at 6-foot-6 allowed Mendoza to land a cracking hook and right hand to put Fundora on the canvas for one of the most surprising hits of the year as a major underdog.
David Morrell def. Yamaguchi Falcao (April 22)
Morrell has already had some intimidating power in his short but impressive career. He went into his bout with Falcao on the Gervonta Davis vs. Ryan Garcia undercard after seeing the devastating effects of that power. Morrell outed Aidos Yerbossynuly in a fallout that saw Yerbossynuly put into a medically induced coma. The Cuban fighter showed no hesitation in letting his punches go despite the tragedy of the Yerbossynuly fight. It took Morrell less than one round to drop Falcao twice, the second of which left Falcao cold on the canvas.
Gervonta Davis def. Ryan Garcia (April 22)
In the biggest fight of the year, Davis faced Garcia in a big event. The fight was competitive, with both young fighters looking to score big shots. Davis struck first, dropping Garcia hard with a left hand in the second round. Garcia was able to quickly get back to his feet and fight on, but it was clear that Davis' power might just be too much for Garcia. It proved that in Round 7 when Davis landed a left hand to Garcia's body. A shot to the liver caused a delayed takedown and Garcia was unable to get to his feet as the referee counted to 10.
Junto Nakatani def. Andrew Moloney (May 20)
Moving up in weight to 115 pounds, Nakatani quickly made a big splash against a longtime top contender in Andrew Moloney. Former flyweight champion Nakatani controlled the fight from the jump, outboxing Moloney and dropping him after a series of uppercuts. Game Moloney continued to try to find a way to make things work against a heavier hitter and a better boxer, but his corner came close to stopping the fight before allowing with their fighter going out for the 12th and final round. round That was a mistake as Nakatani launched a right hand that sent Moloney asleep in the clubhouse leader for Knockout of the Year.