Dolphins' Mike McDaniel: 'miscommunication' led to huge delay of game penalty near end of game
Miami Dolphins coach Mike McDaniel addressed his play calling near the end of the team's 34-31 loss to the Buffalo Bills – specifically the fourth down play where they were called for a delay of game.
Dolphins quarterback Skylar Thompson was trying to lead the team down the field with 4:13 left in the game to at least tie it and put the Bills in overtime in the AFC wild card game. Thompson and the Dolphins had the ball on the 48-yard line when confusion appeared to be brewing.
CLICK HERE FOR MORE SPORTS ON FOXNEWS.COM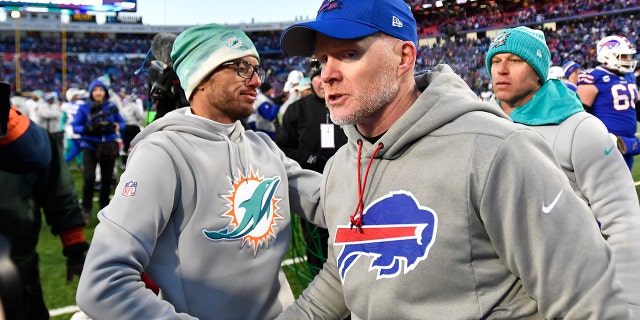 Miami running back Salvon Ahmed ran the ball on third down for no gain, although it looked like he was at least close to the first down marker. As the game clock began to tick, Thompson and the team waited a long time for the play to come into play. Thomson would get the team ready but the play clock ticked down and hit zero before the ball was snapped.
The Dolphins got a delay of game and Thompson's next play was an incompletion to Mike Gesicki. The Bills would take over and end the game on their next possession.
McDaniel's decisions were scrutinized on social media and he had a chance to speak to him during the postgame press conference.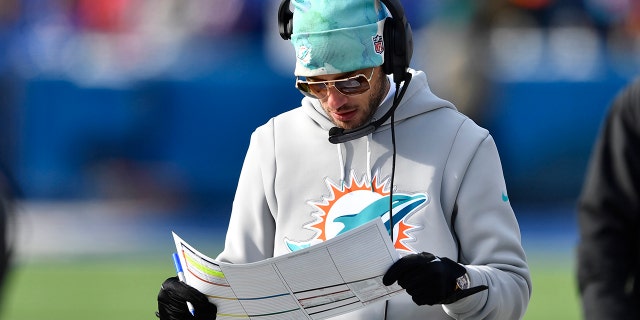 JOSH ALLEN BILLS breaks NFL legend's record in multi-touchdown performance vs Dolphins
"There was a little bit of crowd noise related to missing some wristband numbers," McDaniel said after the game. "There were some issues within communication and getting to the line. the scrimmage and there was the excuse that you don't use that you don't use but that's a really complicated variable if there was a bunch of different people. the huddle when you're in a nice routine and maybe that you have a group of offensive linemen that the same person communicates with; when you have flux like that, it happens. It shouldn't happen as much as it did.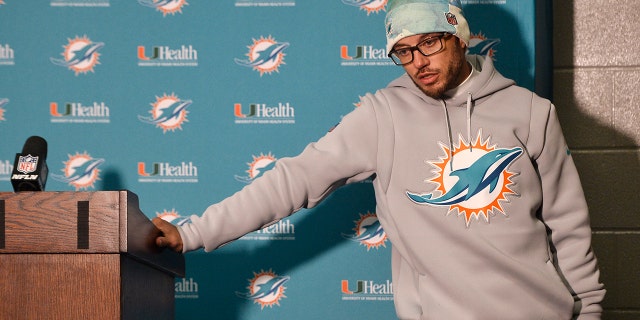 "And then the last one especially had to whether it was officials or coaching, there was a bit of communication that we had got down at first. So that miscommunication – that's all the stuff you do in this business, you never stop looking for things you can improve on and that was part of the reason we weren't able to to come out with a win, but that certainly wasn't the only reason. There were a lot of people who found several things they could do better, myself included, and we will push forward."
Click here to get the FOX NEWS app
Miami was 4-for-16 on third down overall. The team had 231 total yards and averaged 3.3 yards per play.