GOP lawmaker reveals background information after nearly punching union leader at Senate hearing
A Republican senator who almost clashed with the head of a national union told FOX News that the leader of the Teams is a "thug" with whom he almost had to listen in a hearing.
Sen. Markwayne Mullin of Oklahoma has traded verbal barbs in the past with Teamsters President Sean O'Brien, but the situation escalated Tuesday after Mullin read inflammatory tweets from O 'Brien – including one in which the union leader declared that he might fight the lawmaker.
Mullin read a tweet from earlier this year in which O'Brien called him a "greedy CEO" with "the act of a tough guy." The lawmaker previously started and grew a plumbing business in Oklahoma but has been critical of how unions work and argues that they put the salaries of their leaders above the well-being of workers.
Mullin told O'Brien that he wished he had been in his plumbing truck when he and his wife first ran a two-man plumbing business.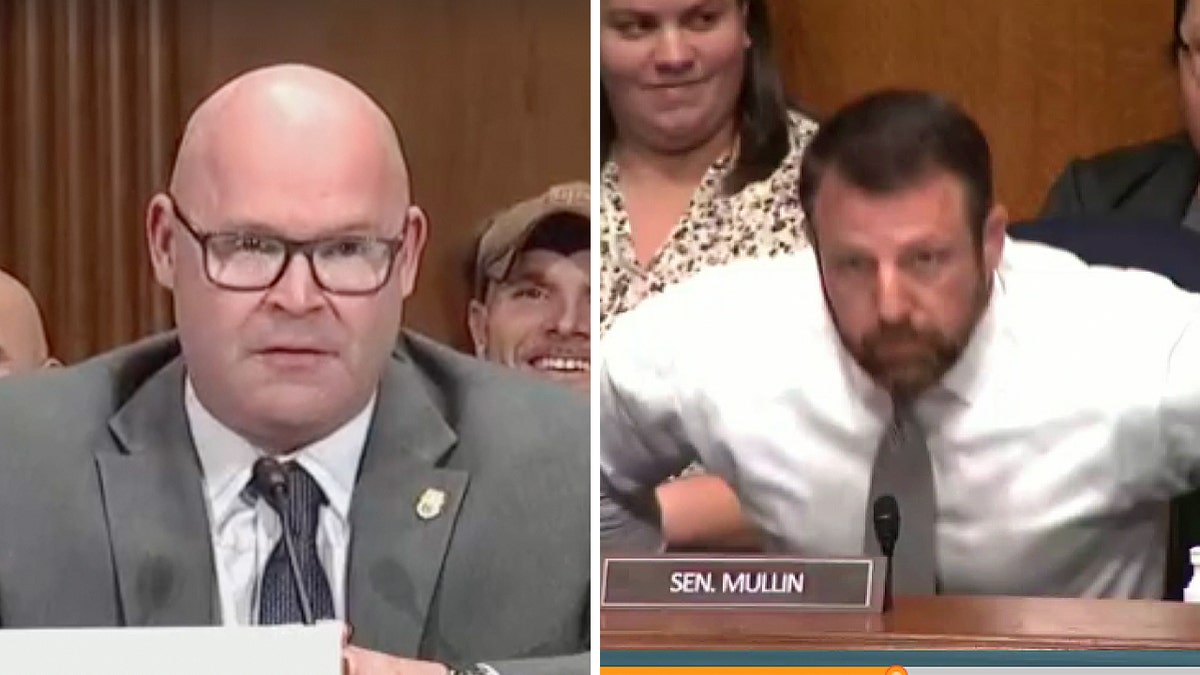 "Anywhere, anytime, cowboy," read O'Brien's tweet.
"Sir, this is a time. This is a place. You want to run your mouth: We can be two consenting adults. We can end this," he said in the hearing.
Mullin told "Hannity" when he got up from his chair and started to take off his wedding ring, O'Brien was scared.
"I'm from Oklahoma first, and in Oklahoma you don't do this. You might run your mouth in New Jersey," he said. "But this is someone who is a mob boss. And you have a right to be afraid because he's the head of the Teamsters – and he's gone with this.
"You're not going to run your mouth at me and expect me to sit there and — you should have seen the fear in his eyes when I stood up too. And I'm not kidding ," Mullin, who is also a former MMA fighter, continues.
Mullin said he wasn't looking for a fight, but that O'Brien had a history of intimidating behavior, citing a 2013 report about him being suspended while he was president of the Teamsters Local in Bally Charles, Mass., related to alleged tolerance of member intimidation in Rhode Island union election.
In another interview with ABC's Oklahoma affiliate, Mullin said that Democratic President Andrew Jackson engaged in nine duels, including one where he "killed a man at a dinner at the White House".
Earlier on FOX News, host Jesse Watters also cited an 1856 incident in which Democratic congressman Preston Brooks of South Carolina killed abolitionist Massachusetts Republican Sen. Charles Sumner by executing him in the Capitol.
On "Hannity," Mullin later pointed out that union leaders like O'Brien are often on the floor because Sanders, as chairman of the Senate HELP Committee, is "a socialist who runs our committee . "
Click to get the FOX NEWS app
"It is in the pockets of the unions, or the unions are in his pocket, one of the two," he said.
"I'm not against unions. Fine. If you want to join a union, join a union. But there's a reason, 50 years ago, 33% of the workers were in a union and the -today, it's 10%. There's a reason Right-to-Work states like Oklahoma have wages $4,000 a year higher than the rest of the union."
Host Sean Hannity said unions tend to take members' money and distribute it among left-wing political interests.
"[C]there are issues related to hockey and people want to make a decision about how they work and where their money goes," said Mullin.
After the confrontation, O'Brien said Mullin was "an embarrassment to the state of Oklahoma."
For more Culture, Media, Education, Opinion and channel coverage, visit foxnews.com/media