Monday thoughts: Key recruiting week, new Nike deal, new turf and more
1. FIRST Pledge 2024 is expected in circles on Tuesday
Most people know by now, but most who cover and follow recruiting (myself included) project David Castillo to commit Jerome Tang and his staff on Tuesday at 3:00 pm when he announces a decision at Bartlesville High School.
Castillo is a monster for the Wildcats as he checks a few boxes. Number one, he starts the class of 2024 with a bang, trying to improve on last season's 23rd class nationally. Number two, he is the highest-ranked recruit K-State has landed since Wally Judge in 2009, who was 18 overall and a five-star. Castillo is No. 35 overall and will be considered a five-star prospect during his senior season, with ESPN already giving Castillo five-star status.
Don't let the Kansas propaganda machine confuse you, K-State beat out Kansas and Oklahoma State for Castillo. It's a big win for the Wildcats on the recruiting trail, including Rodney Perry which helped in rapid growth and speed to enable these workers to beat workers who had been in place for all of Castillo's recruitment.
2. MAX ABMAS VISIT TO MANHATTAN
One of the best moves on the portal is the Oral Roberts guard Max Abmas. Despite some suggestions from different parties during the week that some teams were involved or that Texas was ahead, I think they were all just guesses or assumptions. Abmas visited K-State after a terrible start with travel.
Weather prevented Abmas from arriving directly to Manhattan, and after a delay, he was sent to Omaha first before arriving in the Little Apple on Saturday around lunchtime.
I think K-State is still very much playing for Abmas and after last week, I feel better about their chances. It seems to be a two horse race between K-State and Texas, or Wichita State as some would think.
K-State is going to be able to sell its program and its success, as well as its staff easily to Abmas. The same success at Texas will be in his favor, so close to home for Abmas, and more NIL support. At this time it is not known if Abmas has a visit date set with Texas.
3. AARON ESTRADA IS BACK ON THE HELP LIST
Hofstra's Aaron Estrada will also visit K-State later this week. As the portal began to expand more, it was clear that Abmas and Estrada might be the No. 1 and No. 2 players on K-State's target list. Estrada had cut his list down to four schools: Alabama, Cincinnati, Florida State and K-State. The Seminoles are out of the mix it would seem, as Estrada has decided not to take a trip to Florida State.
K-State is going to get a chance to make a good impression and see if they can secure his commitment on April 29 when he plans to make a decision. Cincinnati has been rumored to be leading the last few weeks, but I think the tide is turning in K-State's favor. If we were to do FutureCasts for the transfer portal, I would predict Estrada to K-State at this time.
4. TYLOR PERRY & RAEQUAN BATTLE UPDATE
North Texas' Tylor Perry is another recruit who appears to be interested in K-State, although he hasn't been publicized much. His connection to K-State is being kept on the down-low by both parties, it seems, but at this time his visit to K-State is still ongoing and the Wildcats are great in appearance. One way or another, Perry and K-State handle their recruiting this way for a reason and I still feel good about where K-State sits for his services if they can't to get both Abmas and Estrada.
I expect K-State's fourth scholarship to be open soon, but even then I think K-State would probably only take two guards. Basically there will be a ladder in how K-State adds guards.
Abmas, Estrada
Estrada, Perry
Perry, Battle?
I throw Raequan Battle into the mix because the Montana State guard who scored over 20 points against K-State in the NCAA Tournament entered the transfer portal last week and has get interest from the wildcats. Right now I would expect him to come in as the fourth guard target the Wildcats have in their order.
5. ISH MASSOUD LOOKS FOR HIS NEW SCHOOL
The departure of Ish Massoud opened up a third scholarship for the Wildcats to work with this season. Jerome Tang later said there would be a situation where Massoud could return to K-State, but for now the transfer grad will look for a new spot where he can have an expanded role and play more minutes in his last season.
Jon Rothstein reported Sunday that the list is getting clearer for Massoud, with scheduled visits to Fordham and New Mexico. Other notable schools that have reached out are Ole Miss, Penn State, Seton Hall, Cal, and Memphis.
6. NOTICE OF PUBLICATION
Basketball isn't the only program having some fun in the recruiting game right now, K-State football had its final spring practice on Saturday and welcomed more visitors. One of them was Michael Boganowski, the leading player in the state of Kansas who made his fifth trip for the Wildcats. That's enough for me to consider him a K-State lean and I sent my FutureCast for Boganowski to the Wildcats.
At first, it looked like K-State and Nebraska were the two schools that would be chasing him for his services, and I think that's still the case. But even with family ties to the Nebraska area, staying local and the deep interest in K-State can't be denied. Even though Junction City is very easy to get to and from Manhattan, Lincoln is not so smart to make the effort multiple times if the interest level is high.
There is no timeline yet on Boganowski's commitment date, but K-State is the frontrunner as of now.
7. NEW TURF GOING TO BE MADE AT THE BILLET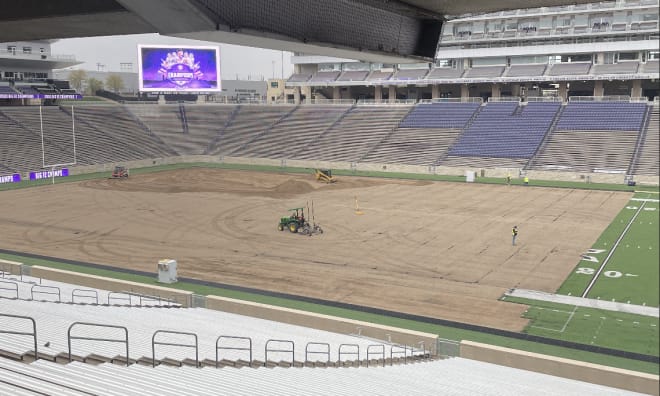 We knew it was coming as Gene Taylor had mentioned a couple of times, but one last contribution from Alec Busse to the site was the image above. Wagner Field is currently preparing its new playing surface. The last surface lasted about five seasons as it was laid down in 2018.
Taylor also confirmed on the recent "Ask the AD" that the basketball court in Bramlage Coliseum will be brand new and replaced for the upcoming season. He also mentioned some lavender being involved in the court.
8. A TRIP TO BEAVERTON TO MEET NIKE
The K-State Collegian had a good read this week about K-State's upcoming negotiations with Nike to renew their current contract. You can read the full story here. Highlights include Taylor, Tang and Klieman all heading to Nike headquarters in Oregon this week to begin negotiations for the next contract.
K-State is happy with Nike (so am I), but Taylor says the next step is seeing if they can get a better deal. That could range from more fan gear options, uniforms, and some money for the university.
K-State should stay with Nike, they are clearly still the best at what they do, it's time for Nike to serve K-State a little more than they have . I'd probably burn my degree if​​​​ K-State ever went somewhere other than Nike, not hyperbole.
9. NBA PLAYOFFS start with 12 big players on the floor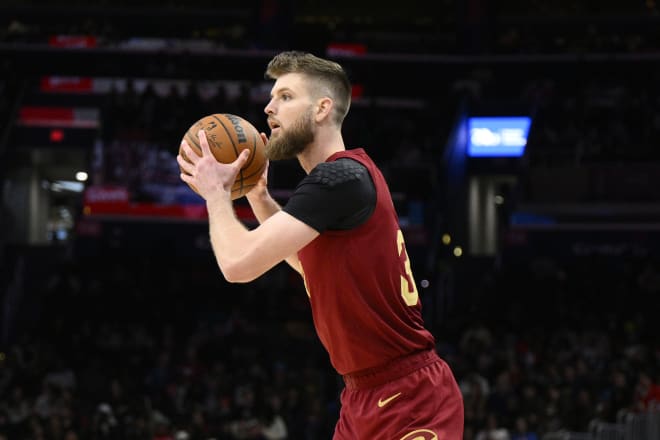 Let's go back to 2019, Lindy Waters III and Oklahoma State were beaten about twice by K-State in the season the Wildcats won the Big 12 title. Dean Wade dominated the Cowboys in Stillwater with 24 points on 9/9 shooting from the field.
Wade, I expected to see him in the NBA, but I didn't expect him to have a rotation spot for a playoff team like he did with the Cleveland Cavaliers this season. I certainly didn't expect Waters to play real minutes in an NBA Playoff game (technically a play-in). I just wanted to point it out, because that's about my entire attention span for the NBA Playoffs. Unless I have a few bets on a game or player here or there.
This doesn't even include former Wichita State and Oklahoma guard Austin Reaves who has turned into a legitimate threat on the NBA floor. Reaves scored 23 points and helped the Lakers defeat the Grizzlies in Game 1 of their playoff series over the weekend.
10. BAT OF KU COLLECTION WITH OFFENSE
I was already planning to give a shout out to Pete Hughes and company for their series win over the Jayhawks, the second year in a row that Hughes has accomplished that feat. Then came the Sunday game which resulted in a sweep for the wildcats. The final score was 21-18.
K-State took an early 13-0 lead after scoring 13 runs in the top of the second inning, but an inning later they allowed KU to find some life by allowing seven runs of their own. 13-7 with just three innings gone. In all, the 39 runs are the most ever scored in the Sunflower Showdown series. That doesn't even include the first two games K-State won 5-4 and 6-1. K-State now has the most wins in the Big 12 with a 9-6 conference record and is a half game behind Texas (8-4) for first place in the league.
K-State closes out its regular season with three Big 12 series remaining against top 25 schools Texas Tech, Oklahoma State and TCU. K-State has the weekend off for Big 12 play this week, so they will be at home on Tuesday to face Wichita State, before heading to California for three games with UC Irvine and one game by UC Riverside.