Qantas plane lands safely after Mayday warning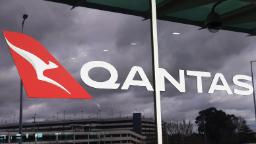 (CNN) –
A Qantas flight landed safely at Sydney Airport on Wednesday after an alert had already been issued.
"All 145 passengers boarded the flight normally," Qantas said.
The airline said QF144 reported "an issue with one of its engines" over the Tasman Sea after leaving Auckland, New Zealand on Wednesday afternoon.
The Mayday warning was downgraded to an "assistance may be required" warning before the plane landed at Sydney Airport (SYD) around 3:30pm local time, the airline said.
The Boeing 737 was "about an hour from its destination" in Sydney when the warning was issued. The journey between the country's two largest cities usually takes around three and a half hours.
Fire, ambulance and police services were sent to Sydney airport as a precaution, according to an airport representative.
Qantas engineers are now assessing the aircraft, the airline confirmed.
"While aircraft engine shutdowns are extremely rare, and would naturally cause concern for passengers, our pilots are trained to manage them safely and aircraft are designed to fly for extended periods of time on one engine ," said an official statement from the airline.
Passengers told CNN affiliate 7NEWS that they heard some commotion on the plane, but could not say what caused it.
"I heard a bang, and maybe a little shudder, but that's it," said one passenger. "They were so professional about it and so relaxed about it."
"I noticed something, but it wasn't really recognizable," said another passenger.
No one on board was injured.
Above: The Qantas logo on display at Melbourne Airport in Australia. Photo via Getty Images.