Texas DPS arrests 16 illegal immigrants after high-speed chase caught on camera
Troopers from the Texas Department of Public Safety apprehend 16 illegal immigrants last week after a high-speed chase in Hidalgo County, video shows.
DPS officials posted a video to Twitter on Monday that was shot last Thursday, showing the nighttime pursuit.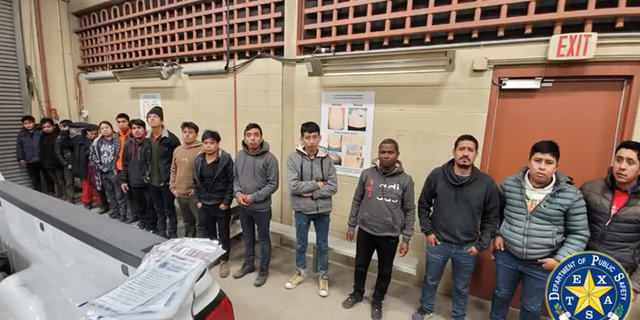 In the video, an SUV traveling at high speed eventually slows down, pulls off the road and drives into a field. When the vehicle stopped, night vision cameras operated from a DPS aircraft showed many illegal immigrants getting out of the vehicle and scattering.
TEXAS OFFICIAL RESCUES OVER 20 MIGRANTS FROM SMUGGLING OPERATION
At one point, two soldiers approach a bush and two illegal immigrants appear on the other side, with one stumbling and falling before turning back and running.
Ultimately, 16 illegal immigrants were apprehended with the help of Texas DPS aircraft. All 16 were turned over to the US Border Patrol.
The driver of the vehicle could not be identified, but according to DPS officials, it is suspected that one of the 16 people caught was the driver.
Click here to get the FOX NEWS app
Border crossings have increased significantly in recent years with 310,531 border crossings in 2017 compared to 2,214,652 in 2022. On Sunday, there were 639,032 border crossings.
Republicans have been up in arms over the increase in border crossings, with many going so far as to call for US Homeland Security Secretary Alejandro Mayorkas to be fired.