The Australian club player takes six wickets in the final over to win a match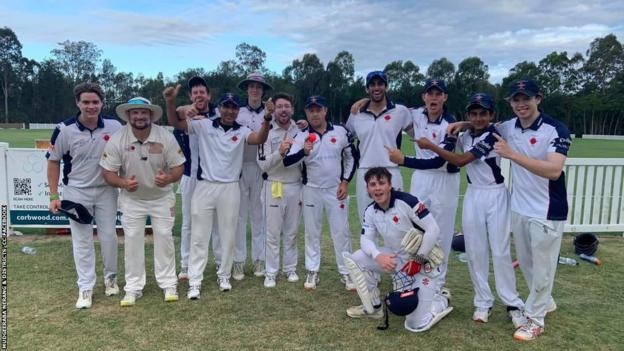 It's a cricketing miracle that could sit alongside Ian Botham 1981 or Ben Stokes 2019. But instead of Headingley, this remarkable comeback finally took place in the humble surroundings of the Carrara Community Center on Australia's Gold Coast.
The Surfers Paradise club side had a win in their hold against Mudgeeraba in Division Three of the Gold Coast Premier League. Chasing 179, they needed just five runs from the final over with six wickets in hand to win.
Mudgeeraba captain Gareth Morgan had other ideas, taking six wickets in six balls to seal the most unlikely of victories.
"It's funny, the umpire told me at the start of the week that I had to take a hat-trick or something to win the game," Morgan told the Gold Coast Magazine.
"When it happened he just looked at me."
The frenzy began when opener Jake Garland, a reporter for the Gold Coast Magazine, hit the ball straight to mid-wicket to depart for 65. The next two batters were caught at mid-on and short mid-wicket to make it three in one season – but Morgan was not done.
"I remember thinking after I got the hat-trick – I don't want to lose this game now. Then it went crazy," said Morgan.
The next batter was caught to leave the Surfers Paradise celebration reeling on 174-8. Morgan then needed no further help from his team in the field, with the last two batsmen being bowled clean.
"When I saw the stumps go back on the last ball I couldn't believe it, I've never seen anything like it," he said.
For reporter Garland, he had broken the golden rule of journalism by being part of the story. Not that he minded too much this time.
"I mean all you can do is laugh about it," he wrote on X, formerly Twitter. "I've always wanted to be part of history in a fun way somehow, I didn't think it would be for this reason.
Surprisingly, this is not the first time that Morgan has been involved in some bowling heroics.
Writing on the club's Facebook page, Morgan's father Huw said: "Proud dad here. Gareth won't tell you, but as a young lad, he once took five wickets in an over! He didn't get six, because he was there. there are only five wickets left at the start of the re-run."
The most wickets taken in professional cricket is five, achieved three times, Neil Wagner playing for Otago in 2011, Al-Amin Hossain for Bangladesh Cricket Board XI in 2013 and Abhimanyu Mithun for the Indian state side Karnataka in 2019.