Tom Brady returns to the field as a minority owner before the Raiders-Cowboys game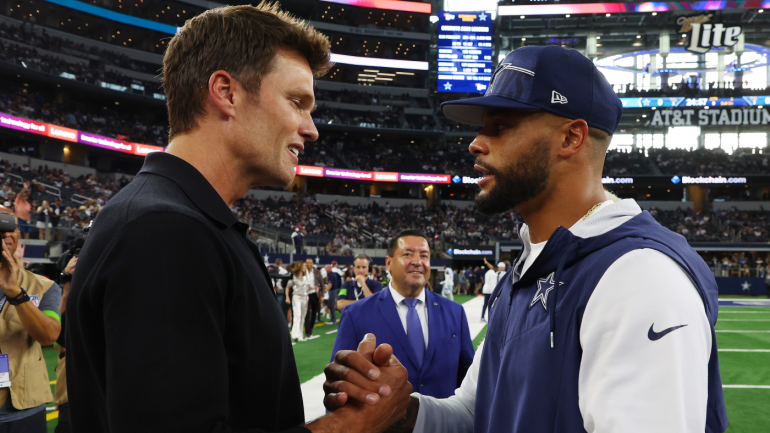 Getty
Tom Brady's iconic career ended with a playoff loss to the Dallas Cowboys in January. Less than eight months later, Brady was in Dallas as a minority owner of the Las Vegas Raiders.
The seven-time Super Bowl champion enjoyed a pregame tour of the field that included an exchange with Cowboys owner Jerry Jones, Dallas quarterback Dak Prescott and Cowboys cornerback Trevon Diggs.
Ever the competitor, Brady also had a pregame message for Jimmy Garoppolo and the rest of the Raiders' quarterbacks.
Brady seems to be settling into his post-playing life. He would certainly like it more if the Raiders could end their 40-yard game drought. The Raiders haven't won the Super Bowl since Marcus Allen won MVP honors when Washington wore the silver and black in Super Bowl XVIII. Brady had a small hand in the Raiders' title drought; his Patriots defeated the Raiders in the 2001 regional round in a game remembered as the infamous "Tuck Rule" game.
The Raiders took a step in the right direction earlier in the day when they came to terms with running back Josh Jacobs on a 1-year, $12 million contract. Along with Jacobs, the Raiders roster has several notable players that include Garoppolo, Jacobs, Davante Adams, Maxx Crosby, Chandler Jones and Marcus Peters.