WATCH: Colorado coach Deion Sanders' mom fires up team in front of The Rock before win against Colorado State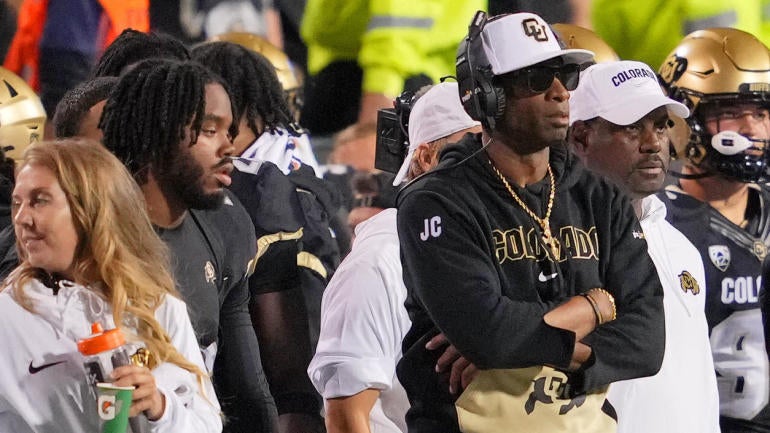 USATSI
Colorado coach Deion Sanders brought his mother out to give a pregame speech Saturday before then-No. 18 Buffaloes 43-35 overtime win over Colorado State. While standing in front of The Rock, one of the countless celebrities in attendance at the Week 3 game, Sanders handed the microphone to Connie Sanders in response to comments made by Rams coach Jay Norvell.
Coach Prime's mother had a lot to say in front of the large group that included players gathered in the Buffaloes locker room.
"I built it right!," said Connie Sanders. "I also told him to always be yourself. If you have to kick his ass, kick ass!"
Norway he poured kerosene on a rivalry game with Colorado when he appeared on his coaches' show. Norvell took note of Sanders wearing sunglasses and hats during his media appearances.
"I don't care if they hear it in Boulder: I told them, I took off my hat and I took off my glasses and I said, 'When I talk to an adult, I take off my hat and my glasses off,'" Norvell said. "That's what my mother taught me."
Sanders jumped on the bandwagon in a big way, especially since he launched a sunglasses collaboration with Blenders. He gave each member of his team a pair of sunglasses and reportedly sold $1.2 million worth of sunglasses on Friday alone.
Surprisingly, the rival game Rocky Mountain Showdown actually lived up to the hype. Colorado State jumped out to a 28-17 lead in the fourth quarter, but Colorado came back to win 43-35 in overtime. Quarterback Shedeur Sanders posted 348 yards and four touchdowns in another outstanding performance.
Deion Sanders' impact has been real through the first three weeks of the season. Colorado posted three of the top four games seen in Weeks 1 and 2, according to Sports Media Watch. Despite the 10 p.m. ET kickoff, Colorado's win over CSU was one of the most talked about moments of Week 3, with everyone from LeBron James to Michael Irvin to Lil Wayne signing in.
However, the real work begins next week as the Buffaloes enter Pac-12 play. The No. 19 Buffaloes travel to No. 10 Oregon for a Saturday game at 3:30 p.m